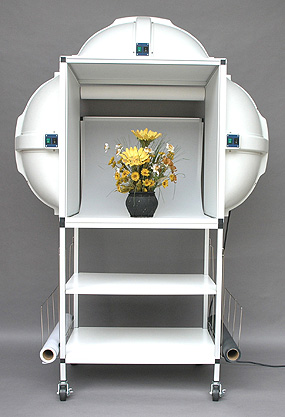 Information Request
FREESTANDING MODEL - TUNGSTEN
- Check Out More Models -
TABLETOP TUNGSTEN
TABLETOP STROBE
FREESTANDING STROBE




FREESTANDING MODEL - TUNGSTEN
Complete Freestanding Lighting System with Tungsten Lamps, Translucent Sweep, Storage, Stand, Locking Casters & Under Light.

Designed for product photography, Litestage is a complete lighting system. This freestanding model utilizes tungsten photo lamps on the left, right, top and bottom. Balanced, diffused and consistent lighting is provided to eliminate hot spots, shadows and room reflections. Results in accurate professional quality images for your catalogs, web sites, auctions and more.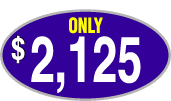 FREESTANDING MODEL - TUNGSTEN Includes:
• Complete stand assembly with aluminum tube construction, 2 white laminated 1/2" thick storage shelves, 2 wire storage baskets, 4 locking casters and a acrylic translucent sweep with aluminum frame.
• 3 Modular light chambers (Reflectors)
• 3 Tungsten 3200 Kelvin lamps - 250 watt
• 3 Modeling Lamps - 60 watt
• 3 Acrylic plastic light diffusers
• Laminated 3/4" modeling surface
• Power switches
• Sockets
• Receptacles
• Cooling fans
• 10 ft. 110 volt cord and plug
• Adjustable background paper holder
• 3 colored rolls background paper
• Reflector board (For Under Light)
• Under Light with 500W Tungsten Lamp
• Tenting cover (Eliminates Reflections)
• Interior Dimensions 30" x 30" x 24"D

Shipping Information
• Skid Dimensions: 36" L x 28" W x 71" H - 175lbs.
• Via Common Carrier: FOB Bensenville, IL
• Call for rate quotes to your location
• Customer Routed Freight is always an available option
• Average Shipping Time: 2 weeks from order date

International Shipping
Rates, Conversions and Shipping Quotes Available Upon Request.
220v to 110v Electrical Transformer Available ($98.00)

Terms
• Visa, MasterCard, American Express, Discover or PayPal
• Personal or Company Checks
• Net 30 days with Credit Approval